At Bold Metrics, we're shoppers too...
We've been there—you've found a piece of clothing you love but can't figure out if it will fit. The size charts provided are confusing, and you haven't seen your measuring tape since you lost it sofa-shopping back in '97.
At Bold Metrics, we love shopping for clothes. That's why we set out to help apparel brands, and retailers connect customers to their best size in seconds with AI solutions that provide accurate and fast sizing recommendations according to your shoppers' body measurements. Because fit is personal and brands should size like it.
AI-Powered Perfection.
Personalization on a whole new level.
Create an intuitive, easy, and accurate way to empower your customers on their path to purchase with Bold Metrics.
Drive meaningful conversion

Boost conversion by 20% by instilling shopper confidence in how a garment fits with accurate, detailed, and contextualized size recommendations that uniquely match each product's specifications to individual shopper's body measurements.
Personalized size recommendations
Will it fit? Our AI models have been trained for over eight years and generate over 50 individual body measurements quickly and accurately. Layer that with specific garment data on a per-style basis, and you have a granular approach to fit that leaves no stone unturned to give your shoppers a best-fit recommendation.
Your shoppers. Our Tech. Real Experiences.



Happy Hour with friends...
The hot new spot is calling – head on over after a long day to catch up with your crew while looking your best.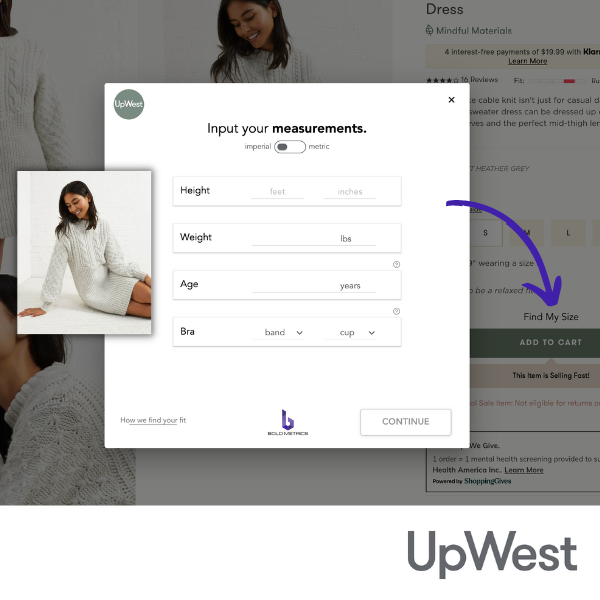 Get cozy with this UpWest sweater dress that does double-duty for work and play. Doesn't hurt that finding your best fit is as easy as clicking a button and filling in a few simple inputs - no measuring tape required.
An adventure in Tahoe...
Heading out to hit powder at Heavenly? The right gear makes all the difference - both off-piste and on.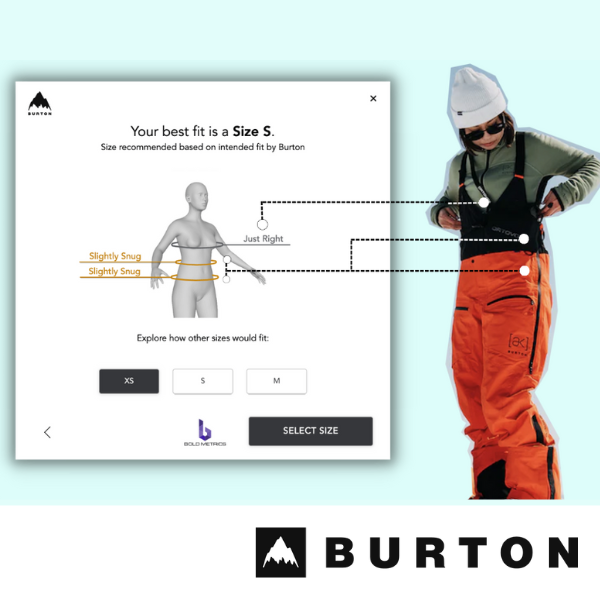 Being able to visualize just how your snow bib will fit across critical points allows you to select your preferred fit and sets you up for peak performance. Not to mention how good you'll look when you shred that run.
The BIG day...
It's finally here, and there are a million things on your mind - wondering if you look your best shouldn't be one of them.
You've found your perfect match, now find the perfect fit. Ditch the guesswork with a personalized sizing solution that matches your body measurements to the garment faster than you can walk down that aisle.
Ready to "perfect" your PDP?
Discover how Bold Metrics powers the essential fit engine behind a successful apparel eCommerce presence. Accelerate online conversion with our suite of proven AI solutions
Boost conversion and delight customers with an intuitive UX
Improve and personalize the shopper journey
Reduce returns and improve sustainability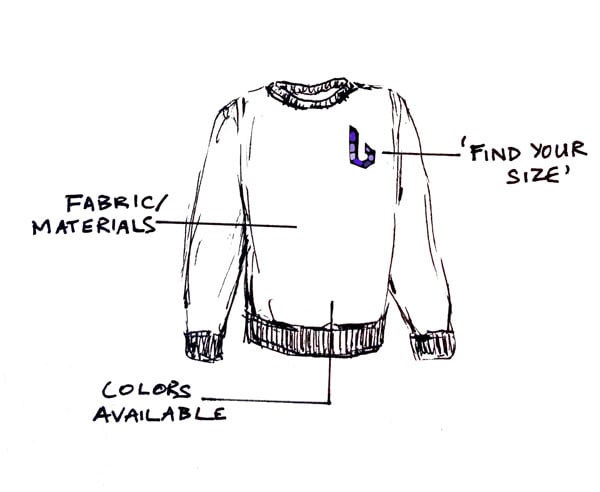 "At Men's Warehouse, it's our goal to offer timeless, contemporary styles and great service for the moments that matter, and in order to deliver on that promise - fit is king. Having Bold Metrics' deeply integrated, world-class fit technology solution is paramount for our success."